In memory of Max Cronin
Iraq war veteran and beloved son of Nancy Burleson, MD.
Max Cronin had his whole life ahead of him, filled with promise. Max joined the U.S. Army and served in the war in Iraq. In 2009 while stationed at Ft. Hood, Max had Lasik eye surgery. After leaving the Army, Max returned to Texas. In July, 2015, Max opted to have a PRK laser eye surgery retreatment because his vision was declining. Max experienced several common complications of laser eye surgery, such as dry eyes, constant eye pain, declining vision, corneal haze, and night driving problems. The complications he suffered took a huge toll on his quality of life and prevented him from working and continuing his education. To add insult to injury, Max felt that his laser eye surgeon was arrogant and lacked compassion. Max wrote several suicide letters stating that he was going to kill himself because his laser eye surgery had ruined his eyes and his life.
Investigation reveals several Lasik patients took their lives due to severe complications - Denver 7 1/31/2019
From the article: At least three Lasik patients who suffered severe complications after refractive eye surgery have ended their own lives, investigative reporter Jace Larson found. The news comes as the Lasik industry maintains the procedure is safe and effective.
It doesn't get easier for Nancy Burleson each time she visits her son's grave.
"The hardest part is waking up every day, knowing I still have to exist without my child," Burleson says.
In the words of Max's mother, Nancy L. Burleson, MD:
My son, Max Cronin, age 27 years old, committed suicide 1-14-16, as a direct result of complications he experienced from Lasik. He left suicide letters stating this and kept details of his complications. He experienced vision loss, constant eye pain, dry eyes, haze, and loss of quality of life resulting in depression and his suicide. He was unable to work or continue his life goals due to his eye complications.
As a medical physician, I can definitely state that Lasik complications can lead to suicide.
For an elective procedure, the risks and long term complications are understated.
The resultant complications and negative quality of life issues increase the risks of depression, attemtpted suicide, and suicide.
Obituary
"Max Burleson Cronin. January 13, 1989 - January 14, 2016. Our beloved, Max Burleson Cronin, committed suicide 1-14-16, at the young age of 27 years old, as a result of devastating complications from an elective laser eye surgery. He is remembered and grieved by his family, his friends, and all who knew him. His absence and loss is a heart shattering event for us left behind. Max was a resident in College Station and attended Blinn College. He had aspirations of attending A&M this Fall pursuing a degree in Petroleum Engineering..." Continue reading
Billboard on highway in Bryan, Texas.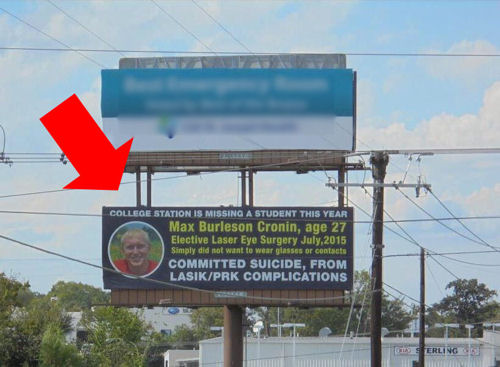 ---
Disclaimer: The information contained on this web site is presented for the purpose of warning people about LASIK complications prior to surgery. LASIK patients experiencing problems should seek the advice of a physician.