Archives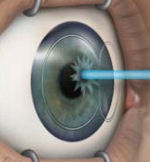 Celebrities - LASIK complications can happen to anybody.
LASIK Humor - Written by LASIK complications patients to help them cope.
Bilateral LASIK - Having surgery on both eyes at the same time doubles the risk!
IntraLase IntraLASIK iLASIK femtosecond blade-free all-laser LASIK: Problems and Recall - Latest technology in LASIK promoted as "better" and "safer". See what the LASIK industry is not telling you about all-laser LASIK.
Will My Brain Adapt? - As bizarre as it sounds, the LASIK industry actually counts on the fact that LASIK patients may forget how crisp and clear their vision was before LASIK.
LVI / LASIK Vision Institute - Get the scoop on this LASIK mill that runs patients through like cattle.
Alcon LADARVision - Read about lawsuits surrounding this popular laser used for LASIK.
Fatal Focus - The Laser Vision Conspiracy, a book by Jonathan Maxx
Lack of Empathy - Eye doctors don't care about patients' quality of life
Comanagement - Your vision may be for sale without your knowledge!
Maculopathy - LASIK can wreck your vision in a number of ways; this is just one...
No Experience Necessary - Want to be a LASIK surgeon? No experience necessary!
Cool Laser - So why does the stench of burning flesh fill the laser suite?
Truth about Wavefront Supervision - Read about the hoax called "custom LASIK".
More LASIK Patients Inside! - LASIK surgeons hire marketing firms to entice patients into a risky, unnecessary surgery!
WSJ: "Maloney Didn't Like Sick People" - A look inside the mind of a prominent LASIK surgeon.
VISX slapped with warning from FDA for advertising violations - VISX broad beam lasers destroyed the night vision of untold numbers of LASIK patients.
---
NEWS ARCHIVES
7/28/2014: In sunny world of LASIK marketers, a dark underbelly.
5/7/2014: Ads trivializing laser eye surgery under scrutiny in Ireland. Read about it at Limerick Leader.
2/14/2014: LASIK mill, LasikPlus, bought out by cosmetic dermatology company. Read article In 2012, LasikPlus was slapped with an FDA warning letter for failure to report serious injuries.
3/12/2012: Morris Waxler invites injured LASIK patients and those who support injured LASIK patients to join him in asking the FDA to withdraw approval of LASIK. Read letter
12/16/2011: Leonard A. Newman, M.D., Newman Lasik Centers receives warning letter from the Food and Drug Administration for not reporting LASIK complications as required under the federal Medical Device Reporting (MDR) statute. Read letter.
11/23/2010: Is the Assault on LASIK 'Critics' Justified? LasikNewswire
11/23/2010: Laser Eye Center of Hawaii files for bankruptcy - Read article
10/27/2009: Read list of LASIK clinics that received FDA warning letters. Link to article
10/26/2010: LCA-Vision [LasikPlus] posts weak third quarter, to close more centers. Read article
10/15/2009: TLC Vision and LasikPlus issued warning letters by FDA for noncompliance with federal law for reporting LASIK problems. Source
10/4/2010: LCA-Vision [LasikPlus] procedures down 25% in the third quarter. Read article
9/17/2010: LASIK surgeon stops performing LASIK in response to long-term studies which demonstrate regression and loss of visual quality. Read article
9/16/2010: LASIK tycoon, Marco Musa of LASIK Vision Institute, dead at 48. More »
7/27/2010: LCA-Vision [LasikPlus] closing Savannah and Birmingham locations. Read article
7/7/2010: State launches investigation into Lasik eye surgeon, Paul Cutarelli. Read article
5/10/2010: Former FDA chief of ophthalmic devices warns that LASIK risks outweigh benefits. Read letter
4/5/2010: LCA-Vision [LasikPlus] procedures dropped 31.6 percent in first quarter. Read article
3/30/2010: LASIK Activists Seek Hill Hearings on FDA Inaction (fdaweb.com). Read article
3/3/2010: LCA-Vision [LasikPlus] stock falls more than 12 percent after downgrade, poor procedure volume. Read article
2/7/2010: LCA-Vision [LasikPlus] looks for new business model as LASIK volumes tank. LASIK patient advocate says LASIK mills have great incentive to conceal problems. Read article
2/19/2010: Chicago LASIK surgeon, Dr. Nicholas Caro, prohibited from ever performing LASIK again. Read article
2/14/2010: Dr. Quentin Franklin and LasikPlus sued for LASIK malpractice. Read press release
1/14/2010: Lasik Vision Institute files Chapter 11 bankruptcy protection. Read article
12/21/2009: TLC Vision, Tiger Woods Sponsor, Files for Bankruptcy. Read article
11/6/2009: FDA Public Health Advisory Sought on LASIK Hazards. Read article
9/14/2009: LASIK Surgery Watch Calls on FDA-CDRH Acting Director, Jeffrey Shuren, to Withdraw Approval of Lasers Used to Perform LASIK. Read article
6/11/2009: LASIK Activist Tells GAO, IG About 20-fold Injury Excess: Read article
6/10/2009: LASIK Patient Advocate Writes Obama Seeking Intervention: Read article
6/3/2009: LASIK Victims Ramp Up Protests at FDA, Capitol Hill: Read article
5/21/2009: Letter sent to U.S. Congress seeking moratorium on LASIK. Source
5/19/2009: Professional golfer, Peter Lonard, having vision problems after two LASIK surgeries. Source