Celebrities Damaged by LASIK
Many people seeking information about LASIK and other refractive surgeries believe that by "doing your homework" and finding a "good doctor", complications can be avoided. This is simply untrue. Complications strike rich and poor, famous and common, showing that even where the resources exist to obtain care from the most famous, prestigious doctors in the world, LASIK still goes wrong. If you know of a celebrity who experienced problems after LASIK, drop us a note at lasikcomplications (at) yahoo dot com.
U.S. Olympic bobsled gold medalist Steven Holcomb suffered from corneal ectasia after LASIK, which lead to his 2007 suicide attempt. Holcomb talked about his LASIK-related vision problems in his 2012 book, But Now I See: My Journey from Blindness to Olympic Gold. Here's an excerpt:
I had worn contacts and glasses for years and thought nothing of it... A local eye surgeon came to the U.S. Olympic Training Center in Lake Placid and offered free Lasik procedures... After a quick screening it was determined that I would be a great candidate, and so I took advantage of it... That had been a year ago, and not only was I not seeing better, but my vision kept getting worse.
It was widely reported that Holcomb had "keratoconus". LASIK surgeons routinely misdiagnose post-LASIK corneal ectasia as "keratoconus" in an effort to hide the link to LASIK. Keratoconus is a naturally occuring disorder of the cornea which usually affects both eyes and typically begins during puberty or late teen years.
Update: Holcomb was found dead at the age of 37 in his room at the U.S. Olympic Training Center in Lake Placid, New York, on May 6, 2017.
Roman Harper, safety for the Carolina Panthers, learned the hard way that Lasik flaps don't heal. In the NFC Championship game his Lasik flap was dislodged.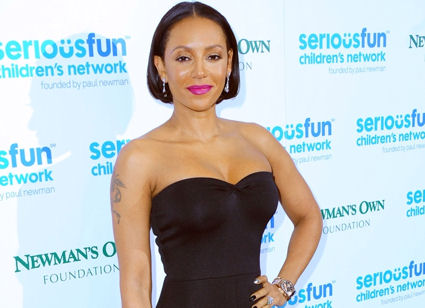 From the article: The former Spice Girl reveals that she's been left blind in one eye, in a new interview, explaining that she previously had laser eye surgery that went wrong. Read article
From the article: Wells was placed on the disabled list Monday morning with what the Phillies described as "vision problems" just two days after he was the losing pitcher and struck out four times in an 18-inning defeat. Interim manager Ryne Sandberg said Wells has played with blurred eyesight. The Phillies sent Wells to an eye specialist in Philadelphia. The 28-year-old outfielder had LASIK surgery last November but issues lingered. Sandberg said Wells tried contacts and the prescription goggles. Nothing helped. "He's also experienced some dry eye in the outfield," Sandberg said. "They dry up when he tries to blink. He tries to blink to gain focus. He's really battling something...
From the article: Gibbons told Jackson that the new [contact] lenses improved his vision off the field, but failed to improve his eyesight at the plate because he "had no depth perception." He's scheduled to visit another specialist, but is having trouble finding lenses that work due to "flattening of his cornea that is a normal result of … surgery he underwent last fall as a follow-up to the lasik procedure he had in 2004."
Jay Gibbons leaves winter ball team due to blurred vision - NBC Sports 1/13/2011
Jay Gibbons has been playing winter ball in Venezuela, but had to leave the team earlier this week because of blurred vision following November eye surgery to improve his sight from 20/20 to 20/15, according to Dylan Hernandez of the Los Angeles Times... He previously underwent laser eye surgery a few years ago.
Dodgers' Jay Gibbons can't see clearly now - latimes.com 3/14/2011
Jay Gibbons is struggling to keep his eyes on the prize. A leading contender for at least a part-time role as the Dodgers' left fielder, Gibbons is leaving spring training for two days because of ill-fitting contact lenses...
Gibbons has a history of vision issues. He had laser eye surgery in 2004, has worn prescription sunglasses at times and had a "touch-up" surgical eye procedure in October. "We can't find a pair of glass that will work," he said...
Dodger's career on the line after LASIK: sgvtribune.com 3/17/2011
From the article: The eye issue dates to the failed touch-up work [Jay] Gibbons underwent last year for the Lasik surgery he had in 2004, which has forced him to wear contact lenses until he can undergo another procedure next winter... As a result, he has to prove over the next 10 days or so that the vision and hitting problems are behind him... If the vision isn't improved, it's going to be tough...

From the article: But Holcomb knows about difficulty, having had to overcome a lot of adversity to get where he is, including battling a degenerative eye disease. The disease, known as keratoconus, was discovered only after Holcomb had a Lasik surgery around 2000 that actually accelerated his vision problems.
From the article: He had Lasik surgery in October 1999 after the Ryder Cup, won the Disney Classic in his first tournament back and has done fairly well since. He realized this spring it was time to do it again. "My vision started slipping," Woods said after The Players Championship. "I was getting headaches from squinting all the time." Link to article
The seven-time grand slam winner retired 20 months ago and during her break had laser eye surgery on both eyes. She then began to suffer from blurring and sought help.

Golfer, Padraig Harrington is reported to have undergone repeated laser eye surgeries. Source
Harrington was seen using eye drops at a tournament in Orlando, Florida on March 29, 2009.
Several professional golfers have reportedly experienced problems after LASIK including Kenny Perry, Retief Goosen, Kevin Na, Paul Stankowski, Ian Leggatt, Vijay Singh, John Jacobs, Peter Lonard, and Scott Hoch.
Golfer, Padraig Harrington is reported to have had repeated laser eye surgeries.
Atlanta Braves catcher, Brian McCann, placed on disabled list citing vision problems after LASIK.
Brandon Sing: "Then I ended up having Lasik and kind of regressed a little bit just because playing underneath the lights with the glare and everything and my eyes were still dry.'' Source
5/19/2009 College baseball player, Trevor Tyre, finds healing after LASIK "depressing": He had the eye surgery in December and had to put in eye drops every day for three months to regain the strength in his eyes. He could see, but not well enough... He saw an eye doctor who recommended the LASIK surgery, but Tyre still wasn't sure. "I had my disbeliefs," Tyre said. "Some people say you see halos around car lights and there's only a 50 percent chance it works. But my doctor assured me that with my young age, it wasn't as bad as it could be." "I couldn't pick up the rotation or spin on the ball," Tyre said. "It was real depressing." Source
7/1/2009: A few years ago the Cleveland Indians infielder, Jhonny Peralta, had a ubiquitous commercial on local airwaves lauding his Cleveland Clinic LASIK surgery. Peralta was good before the surgery, but his play around airtime was erratic. The radio spot became the butt of jokes by some of the city's cynical sports fans, and his recent play has made him an object of scorn around the city. Source
8/26/2009: Parajeckas, head pro at Pleasant Valley CC in Sutton, underwent successful Lasik surgery to correct his vision in 1996, but he has suffered from dry eyes and cloudy vision for the last year and half to the point where it affects his balance. "It felt like there was a fog over my eyes, like a windshield defroster," Parajeckas said. "I kept on blinking, blinking, blinking." Parajeckas had plugs implanted in his eyes to provide moisture, but his eyes got too wet, so he had the plugs removed a couple of weeks ago. He continues to use drops to try to prevent his eyes from getting dry. "It's been a nightmare," he said. Source
From www.KathyGriffin.net: "Here's the deal. I've had severe complications from lasik surgery... I've had FIVE surgeries on my right eye. Three were lasik surgeries and one was an attempt at corrective surgery..." Read about Kathy Griffin's "LASIK nightmare".
From the article: "The defending champion was left frustrated after suffering blurred vision following recent corrective laser surgery. Despite a whistle-stop flight for an appointment with a specialist in Dubai, the problem persisted resulting in the champion's withdrawal just 24 hours before the start of the $2.5 million tournament. 'I have had laser treatment before, seven years ago, and felt I needed a touch up which I had done ten days ago. But there has been a bit of growth with a fibre in the left eye.' "
From the article: And while it seems like there wouldn't be much left to discover about The Edge, Adam Clayton, Larry Mullen Jr. and especially Bono - who has taken up Third World debt relief as his personal cause and has met with everyone from George Bush to Nelson Mandela to Oprah Winfrey to the pope - we discovered 50 things even diehard fans may not know about the most famous band on the planet... ADAM CLAYTON, 44...Doesn't drive at night since he had Lasik surgery...
Original Source: New York Post
From the article: Jennifer Capriati is wary of playing night matches because the court lights affect her ability to see the ball... Capriati, who had Lasik eye surgery two years ago, also had trouble picking up the ball in a night match at last week's Acura Classic, where she lost in the quarterfinals. "I feel like it's wearing off a little bit," she said of the surgery.
Editor's note: The article originally ran at http://www.sportingnews.com/tennis/articles/20020809/420549.html, but has now been removed.
"Canadian Ian Leggatt, a first-time winner on the PGA Tour this season, also knows a thing or two about Lasik complications. Leggatt, who had extreme nearsightedness in both eyes before having the surgery in October 2000, says it was about a week after the initial procedure before he was seeing normally again. But by Christmas, he was experiencing chronically dry eyes and blurry vision, so he went back to his surgeon...