Corneal Collagen Cross-linking (CCL)
CCL, CXL, C3R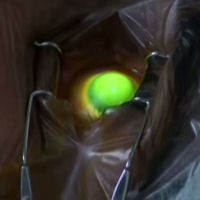 IMPORTANT NOTICE: Patients who experience problems from corneal collagen cross-linking should file a MedWatch report online with the FDA. Alternatively, you may call FDA at 1-800-FDA-1088 to report by telephone, or download the MedWatcher Mobile App for reporting cross-linking problems to the FDA using a smart phone or tablet.
Are you a patient who is facing or has had corneal collagen cross-linking? Join the discussion on FaceBook
What is corneal collagen cross-linking? Corneal collagen cross-linking (CCL, CXL) is a treatment for progressive keratoconus or corneal ectasia (also known as keratectasia) following refractive surgery, primarily LASIK. The goal of crosslinking is to halt the progression of the disease. (Warning to LASIK patients with ectasia: If your ectasia is not currently progressing, there may be NO BENEFIT to crosslinking).
A normal cornea has crosslinks between its collagen fibers that keep it strong and able to maintain its natural shape. The cornea naturally creates new collagen crosslinks in response to damage from smoking, diabetes mellitus, and aging.
Corneal collagen cross-linking involves saturating the cornea with a photosensitizer -- ophthalmic riboflavin (vitamin B2) solution -- followed by UVA irradiation. Photo-oxidative damage induces new collagen crosslinks to stiffen and stabilize the cornea. If corneal thickness is less than 400 microns, cross-linking should be avoided.
Op-ed that describes the cross-linking procedure in layman's terms
What is corneal ectasia? Corneal ectasia is a progressive protrusion, bulging, or steepening of the front surface of the cornea resulting from biomechanical failure of the cornea. Keratoconus is a naturally-occurring corneal ectatic disorder. Ectasia may also result from surgical-thinning of the cornea during LASIK.
How does LASIK cause corneal ectasia? Collagen fibers of the cornea provide its form and biomechanical strength. LASIK thins the cornea and severs collagen bands, permanently weakening the cornea. This may lead to progressive bulging or steepening of the corneal surface, a condition known as corneal ectasia, characterized by loss of best corrected vision and possible corneal failure requiring corneal transplant.
Reported risks and adverse effects of riboflavin/UVA corneal collagen crosslinking: Temporary haze (up to 100%), permanent corneal scarring (common), corneal edema (most eyes), loss of stromal nerves, loss of corneal sensation, dry eyes, loss of and damage to corneal cells (keratocytes) (up to 100%), infection, damage to the corneal endothelium, herpes keratitis, loss of best corrected visual acuity, corneal melt, epithelial defects, sterile infiltrates, diffuse lamellar keratitis (DLK), diffuse subepithelial opacification, corneal perforation, punctate keratitis, corneal striae, photophobia, conjunctival hyperemia, eye irritation, ocular discomfort, eyelid edema, foreign body sensation, excessive tearing, anterior chamber flare, glare, ocular hyperemia, corneal disorder, corneal edema, visual impairment, keratitis, meibomian gland dysfunction, anterior chamber cell, eye strain, headache, halo vision, corneal abrasion, eye pain, corneal remodeling (worsening vision), stem cell damage, treatment failure, need for second treatment, and blurred vision.
Some adverse effects of corneal collagen cross-linking resolve over several weeks or months. Others require medical intervention. Complications may lead to permanent worsening of vision and need for corneal transplant.
How is the cross-linking (CXL) procedure performed? In the epithelium-off CXL procedure (standard protocol), topical anesthesia is administered to numb the cornea. The front surface of the cornea -- the epithelium -- is mechanically removed/destroyed to expose the corneal stromal tissue. Riboflavin solution is then administered topically. Next, the cornea is irradiated with a UVA light source for a pre-determined period of time. Postoperatively, antibiotics and corticosteriod drops are administered and a bandaid contact lens is applied. The bandaid contact lens remains in place for a few days while the epithelium heals.
Some surgeons prefer to leave the epithelium intact during the cross-linking procedure. The epithelium-on technique is associated with less pain and faster postoperative recovery, but is reported by proponents of the standard protocol to be less effective. There is ongoing debate among eye surgeons as to which technique is superior.
Is corneal collagen cross-linking FDA-approved? Following a meeting of FDA advisors on February 24, 2015, the agency approved the CCL procedure for treatment of progressive keratoconus in April, 2016. The FDA gave approval for the corneal ectasia indication in July, 2016. Click here for full Prescribing Information for Avedro PHOTREXA VISCOUS, PHOTREXA and the KXL System.
Read article: Device Maker Slammed by Injured Patients at FDA Meeting
Additional clinical trials of corneal collagen cross-linking are in process. Learn more about clinical trials for treating corneal ectasia with corneal collagen cross-linking at ClinicalTrials.gov. This is for informational purposes only. The webmaster of this site does not endorse these treatments.
What are the alternatives to corneal collagen cross-linking? Rigid gas permeable contact lenses are the safest option and should be tried before crosslinking. It is possible that post-LASIK corneal ectasia may stabilize without crosslinking. If contact lenses fail, surgical options include intracorneal ring segments (ICRS) or INTACS, and corneal transplant. (Note: The webmaster of this site does NOT endorse ICRS/INTACS.)
Is corneal collagen cross-linking safe, and does it work? The procedure carries risks and has limitations. The treatment is only indicated in cases with active disease progression. Post-LASIK ectasia may stabilize without surgical intervention.
CCL appears to be more effective in the treatment of keratoconus than in the treatment of post-LASIK ectasia. The layers of the cornea closer to the surface receive the most benefit from CCL. The treatment effect tapers off deeper into the cornea. For this reason, it appears that much of the treatment benefit is lost on the flap in post-LASIK eyes, as the LASIK flap is permanently decoupled from the underlying cornea and therefore provides no biomechanical strength to the cornea.
The long-term durability of the stabilizing effect of corneal collagen cross-linking in the treatment of post-LASIK ectasia is not well-established.
Patient age over 35 years was identified as a significant risk factor for complications in one study. (Source: Koller et al. Complication and failure rates after corneal cross-linking. J Cataract Refract Surg. 2009 Aug;35(8):1358-62.)
Another publication reported that an Italian study found keratoconus patients under age 26 treated with CXL showed the most benefit. (Source: Raiskup et al. Corneal cross-linking with riboflavin and ultraviolet A. Part II. Clinical indications and results. Ocul Surf. 2013 Apr;11(2):93-108.)
What about cross-linking for post-RK (radial keratotomy) corneal instability/ectasia?
CCL can lead to reopening of old RK incisions. The images below show the cornea of a post-RK patient who underwent CCL. The photo on the left shows suturing of the reopened RK incisions two weeks after the procedure. The photo on the right shows significant fibrotic scarring along the sutured incisions at 6 months. Click on image to enlarge.
---
Case Report
Taneri et al. Corneal Ectasia After LASIK Combined With Prophylactic Corneal Cross-linking. J Refract Surg. 2017 Jan 1;33(1):50-52.
PURPOSE: To report a case of unilateral corneal ectasia following LASIK surgery combined with prophylactic corneal cross-linking (CXL) in a young patient.
METHODS: Case report.
RESULTS: Preoperative topography was unremarkable in both eyes with a minimum corneal thickness of 554 μm in the right eye and 546 μm in the left eye. Preoperative corrected distance visual acuity (CDVA) was 1.0 (20/20 Snellen) in both eyes with a refraction of +1.25 -2.75 × 10 in the right eye and +0.50 -2.00 × 163 in the left eye. LASIK combined with CXL was uneventful. After 12 months, postoperative topography was unremarkable with an uncorrected distance visual acuity (UDVA) of 1.0 in both eyes. Two years after surgery, the patient presented with a loss of vision (UDVA 0.25) and an inferior steepening on topography in the left eye. Standard CXL was performed to arrest further progression.
CONCLUSIONS: This report illustrates that the currently used prophylactic CXL protocol in combination with LASIK may not be effectively preventing corneal ectasia in every case.
---
News
4/1/2015: Physician group slapped with FDA warning letter. From the letter: "Our investigation found that CXL-USA failed to ensure proper monitoring of Protocol [redacted]. Specifically, during the inspection you indicated that CXL-USA (1) did not review investigation-related data or records, (2) did not perform any site monitoring, and (3) relied on clinical site "self-monitoring."
11/2/2015: Thomas S. Tooma, M.D. slapped with FDA warning letter for conducting study of corneal collagen crosslinking on human subjects without FDA approval.
---
Corneal collagen crosslinking links
Avedro Briefing Package for the Dermatologic and Ophthalmic Drugs Advisory Committee 24 Feb 2015.
FDA Briefing Document, Joint Advisory Committee Meeting, Avedro Corneal Collagen Crosslinking system. 24 Feb 2015.
Dr. Morris Waxler's presentation to the FDA Joint Advisory Panel on 2/24/2015 regarding Avedro's application for approval of riboflavin/UVA corneal collagen crosslinking
Dr. Edward Boshnick's presentation to the FDA Joint Advisory Panel on 2/24/2015 regarding Avedro's application for approval of riboflavin/UVA corneal collagen crosslinking
FDA Meeting Announcement 2/24/2015
Slides for the 2/24/2015 FDA Meeting
Webcast recording of the 2/24/2015 FDA Meeting
LASIK Patient Advocate, Paula Cofer's presentation at the FDA meeting on 2/24/2015 (begins at 36:12)
Morris Waxler, PhD's presentation at the FDA meeting on 2/24/2015, given by Paula Cofer (begins at 49:49)
Dr. Edward Boshnick's presentation at the FDA meeting on 2/24/2015, given by Paula Cofer (begins at 1:11:43)
FDA Meeting Transcript 2/24/2015
---
Disclaimer: This information is NOT intended to be used as medical advice. The information contained on this web site is presented for the purpose of warning people about LASIK complications prior to surgery. Persons experiencing vision problems or other eye problems should seek the advice of a physician.

Last update 1/10/2017